Everything that's required to submit a SpaceProtect claim for a booking.
So things didn't go according to plan, huh? SpaceProtect allows you to make a claim towards damage or extra costs incurred as a result of something going wrong with your booking.
1st Step: Attempt to resolve the issue directly prior to SpacetoCo action
Contact the Guest directly. The best outcome often involves open and honest communication between the parties to ensure that both sides of the incident are clearly understood by all participants.
If a claim needs to be made through SpacetoCo, here are the steps to submit a SpaceProtect claim.
🕑 Allowed time for making a claim
If you are making a claim on a pre-event hold, you have up until the hold is released to make a claim. This is typically 3 to 4 days after the booking (you'll find the exact date if you open the booking directly in your dashboard).
If you are making a claim and there was no pre-event hold, you have up until we payout the booking. Learn more about when we payout a booking here.
Where to make the claim
Log in

to SpacetoCo.com and go to your dashboard.

Select the booking you wish to submit a claim for. A booking editor will appear on the right-hand side.
Scroll down the booking editor until you reach the SpaceProtect box.
Click on "Make a Claim".
Fill in all the required fields in the pop-up box, and click submit.
What is required for my SpaceProtect claim?
Three things are required to submit a SpaceProtect claim to our team.
1. Claim Amount
Enter the amount that is required to recover costs for damage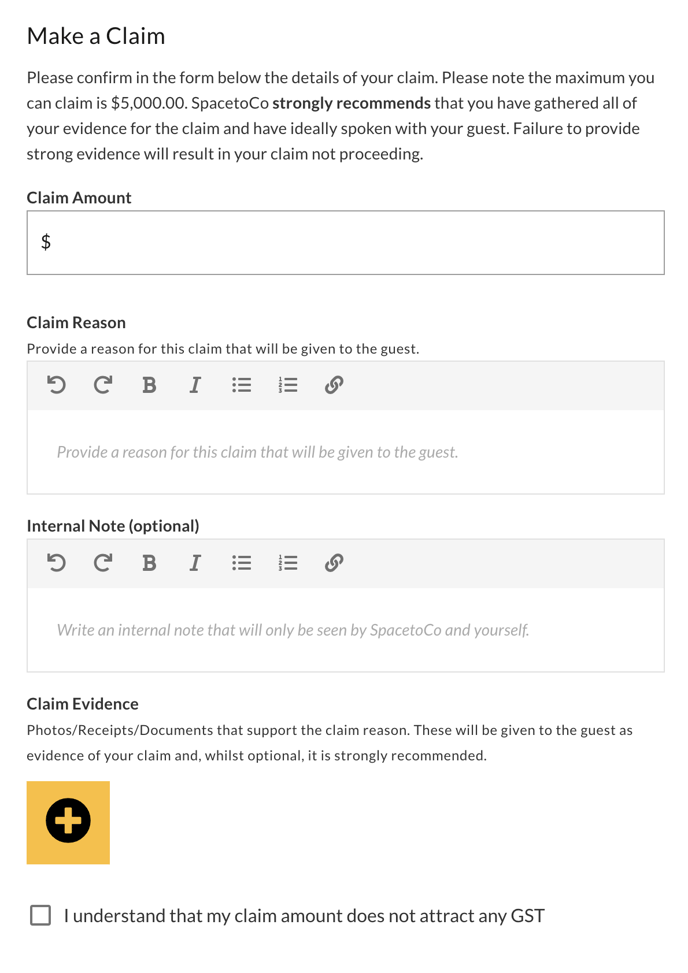 that you wish to claim from the Guest. Please remember that this amount must be justified by the supporting evidence provided.
SpacetoCo reserves the right to approve less than your requested amount. This is why you must provide as much support to your claim as possible.
2. Claim Reason
Describe in as much detail as possible the reason for your claim.
✋NOTE: This information will also be emailed to the Guest to explain why a claim has been submitted, and so it is important to include as much detail as possible for your claim to be appropriately reviewed.
✅ Good Claim Reason:
"Floors very sticky near kitchen, Mops and Buckets left outside, Windows left open, Rubbish piled on top of, and around bins, Water on floor near fridge in kitchen, Tap in kitchen not turned off properly, Alarm was not turned ON for Hall Section upon arrival.
OUTCOME OF POST HIRE INSPECTION CONDUCTED AT 4PM ON 11TH JULY 21"
🚫 Bad Claim Reason:
"Extra cleaning."
3. Claim Evidence
Finally, provide any and all documentation to support your claim. This is very important as this is the evidence that your claim is legitimate. If sufficient evidence is not provided, SpacetoCo may reject your claim and release any funds back to the Guest.
Claim evidence should include photos, copies of receipts, and any communication with the Guest. The Guest will also receive a copy of your evidence along with the claim reason.
SpaceProtect Claim Review
Once you've filled in all the required fields and clicked submit, your claim request will come through to the SpacetoCo team for review. If your claim is:
Approved, it will be processed 72hrs after the claim is submitted. The funds are immediately captured from the Guest's credit card. The claim will then be transferred to you along with the funds from the booking, minus any applicable fees.
Denied, you'll be provided with a reason and the funds will be released from the Guest's credit card. If this happens, any applicable SpaceProtect fees will be deducted from the booking value before it is paid out to you.
Disputed, we will contact you further to discuss.
What Happens if the Guest disputes my Claim?
When you submit a SpaceProtect Claim, your Guest is emailed a copy of your claim reason and evidence. They are instructed to email hello@spacetoco.com if they wish to dispute the claim.
If this happens we will contact you as the Host and pass on their dispute reason.
You must then contact the Guest directly to discuss the claim and reach a resolution. We will hold off processing the claim for a maximum of 3 weeks.
Once you have reached a resolution with the Guest, contact SpacetoCo and pass this resolution on. Please also clearly state what action needs to be taken with the claim (e.g. reduce by $X or release etc)
If you fail to contact your Guest and pass on the Claim Resolution to SpacetoCo within 3 weeks, the SpaceProtect claim will automatically be released. In the event of a claim being released, it will no longer be possible to submit a bond claim against the booking.
🛑 Refunding an Approved SpaceProtect Claim
Please note that it is not possible to refund a SpaceProtect claim once it has been approved by SpacetoCo. Please consider this when submitting your claim. Any refunds that are required after a claim is submitted will need to be organised directly between the Guest & Host.
If you have any questions about using SpaceProtect, feel free to reach out to our team. You can have a chat with us by clicking on the yellow message bubble in the bottom right-hand corner of the screen.