How to create and use booking tags
Booking Tags, available on Casual, Regular & Manual Bookings, are a great way to stay organised across hundreds of bookings. They are fully customisable with the option to adjust the name, colour, icon or flag on/off.

Creating a Tag
There are two main options when creating a tag:
Option 1: Create on the fly
By either accessing the 'Tag Booking' option from the actions menu on the booking table, or through clicking the 'Add Tags' icon in the booking editor, you can create a tag just by typing: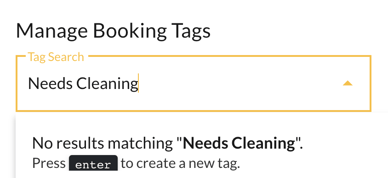 Option 2: Create through the tag management page
Through this link, app.spacetoco.com/dashboard/host/tags tags can be created, edited and deleted.
Both options add any tags you create to the overall list of tags available on all bookings.
Viewing Tagged Bookings
Once a tag(s) has been added to a booking, we highlight these using icons on the booking table, the calendar, and in the booking editor. Hovering over the tags gives you further information:

'Flagging' a Tag as Important
Sometimes you need a tag to stand out more than others. By 'flagging' a tag, you are marking it as important which means that a red flag will be shown everywhere the tag is used.

Removing a Tag from a Booking
A tag can be removed either via the booking editor (by clicking on the 'x' on each tag)

Or through the manage tags modal: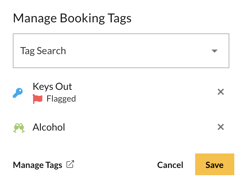 NOTE: Removing a tag through these methods will only remove it from the single booking.
To completely delete a tag from ALL bookings, this needs to be done via the tag management page app.spacetoco.com/dashboard/host/tags:

Adding Tags to Multiple Bookings
There may be situations when you need to add the same tag(s) to multiple bookings at once. We've got you covered! Here are the ways this can be done:
Linked Bookings
When multiple bookings are created at once, they are 'linked' together which can be seen in the booking editor under the 'Linked Bookings' tab. Selecting bookings via this method will allow you to add tags to lots of bookings at once: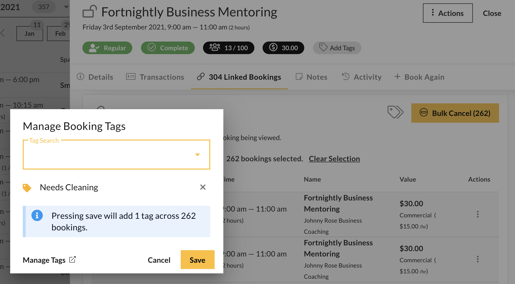 Pending Bookings
The same methodology can be used when viewing a pending booking. Tags can be added to bookings before being accepted:

Regular Bookings
On step 1 (Event Template) when creating regular bookings, tags can be added to all bookings as part of the creating process:

We've got many exciting ideas on how tags can be used in the future as part of the overall booking experience. We encourage you to reach out to the SpacetoCo team with any feedback you may have as we continue to iterate on this exciting new feature.