SpacetoCo works in collaboration with many large civic & private organisations. For these customers, we offer a range of additional support measures and other services that facilitate large scale community bookings.
SpacetoCo has specifically created the PartnerPro bundle for organisations who have a large volume of bookings.
Why do we need the PartnerPro Bundle?
SpacetoCo is designed in a way to ensure every customer's experience when dealing with our software is as seamless as possible. These customers are not just Guests who use the space, but can also include support staff, booking officers, maintenance crews and finance departments.
The PartnerPro bundle caters to these customers and ensures that higher volume doesn't necessarily result in more work or complicated processes. We take the hassle out of the many thousands of bookings that come through the SpacetoCo platform by delivering quality experiences for all stakeholders to ensure they can do their jobs effectively and efficiently.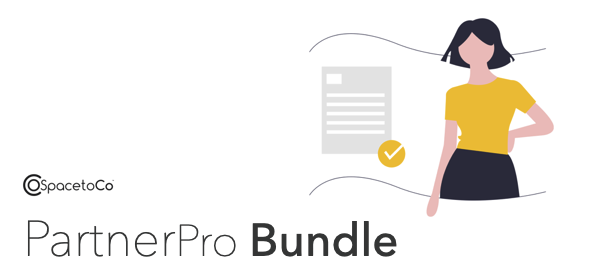 What's included?
When it comes to partnering with SpacetoCo, our PartnerPro Bundle is an essential service for customers who experience a high volume of bookings. It includes the following benefits:
1. Access to Verified Guest Workflows & Transactions
As a PartnerPro, we give you access to Verified Guest bookings. This allows for regular bookings to be added in bulk across a large number of customers and provides a post-pay model for all related transactions. For more information on what it means to be a Verified Guest, please visit: this link
Verified Guests also gain access to payments via Direct Debit through our payment partner GoCardless.
Please note that PartnerPro is a requirement for access to the Verified Guest experience.
2. Monthly Bulk Payout & Finance Management
Under normal circumstances and without PartnerPro, payouts to Hosts happen on a continual basis depending on the number of bookings occurring at any given time. For this process, SpacetoCo uses a secure, PCI-compliant service called Stripe Connect. The timings and volume of this payout schedule along with how payments are bundled can result in a time-consuming and confusing process for the Finance Team who need to reconcile their monthly accounts.

To solve for this situation, PartnerPro's gain access to the accounts receivable workflow which is a fully reconciled report matched to one monthly bulk payment. Included with this is a detailed set of reports that are generated as a snapshot of data from the previous month, along with an account code summary ready for import into your finance package. This task alone ensures considerable time savings for officers who have often been required to manage this on top of their existing workload. The reports include:
Tax Receipt
Confirmed Bookings Report

Guest Summary

Space Summary

Account Code Summary

Bookings Summary

Verified Guest Summary

Problematic Transactions (if applicable)

If accessing SpaceProtect for any claims, this is also included as part of the bulk payout.
3. Extended Refunds
PartnerPro's gain access to an extended refund allowance period, from 48hrs up to a range of 20-50 days after the end of a booking. This provides ample time for teams to ensure customers are catered for long after the booking has been completed.
4. Financial Quality Check
SpacetoCo will always scrutinise financial reports each month as a quality check. This is to ensure the correct amount gets transferred to your finance team without any mistakes.
5. Slack Support
Customer support is a defining feature of SpacetoCo. There are many ways that SpacetoCo provides this support and we make it easy for customers to access.
Being a PartnerPro, we go one step further and provide a 'hotline' of just-in-time support using the Slack messaging service. Slack allows us to tag in multiple team members from SpacetoCo or your organisation. It enables threaded conversations so that nothing is lost or forgotten. This provides a great deal of transparency, flexibility, and support to the initial rollout and any ongoing customer support enquiries.
Being an open and modern way of communicating, Slack is also extremely useful for training, product updates, and enabling communication within the community of other SpacetoCo Hosts. Slack has proven to be an invaluable asset for the daily operations and personnel who deal with bookings and need answers or support quickly.
6. One-on-One Customer Onboarding Support
As part of the rollout process when implementing SpacetoCo, the customer onboarding experience can be challenging when working with different members of the community. SpacetoCo steps up its resources for PartnerPro's during this time to help with the rollout. This includes providing guidance on customer communications, being available for direct customer phone calls, and having weekly meetings if necessary to assist with the full transition to SpacetoCo.
7. One Cost per Organisation
For some larger organisations like Local Governments, they will likely require several different SpacetoCo Host accounts. The PartnerPro Bundle cost covers your organisation for up to five (5) different SpacetoCo Host accounts*, and each account will have access to all of the features mentioned above. An example of this may be:
Host Account A: Library
Host Account B: Parks & Gardens
Host Account C: Facilities
Each SpacetoCo Host account can have an unlimited number of users (e.g. Booking Officers) gaining access through User Switching.
*additional accounts are allocated and charged in groups of five (5)
How do I find out more?
Please reach out to SpacetoCo to discuss pricing for our PartnerPro Bundle by emailing hello@spacetoco.com