SpacetoCo provides resources that assist you to market your spaces. Tell more people about your Space. Get more bookings.
Did you know you've joined a new movement to help people discover different spaces near to them? With your help, we can improve the use of your space, create more connections between people, and support the local economy.
You are a SpacetoCo Host.
And that makes you part of our family!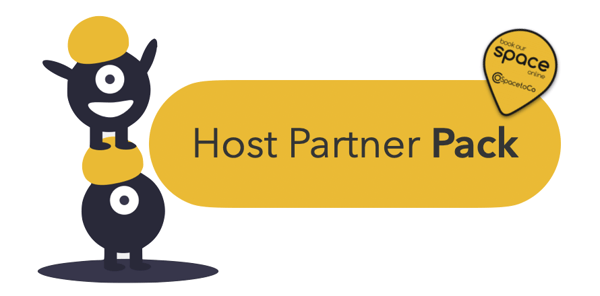 So... what is this 'pack' you speak of?
'Book our Space' Website Pin
To make it easier for people to book your Space, the below pin can be installed on your website for a direct link to your Space or Host page. This is the most effective thing you can do to drive bookings.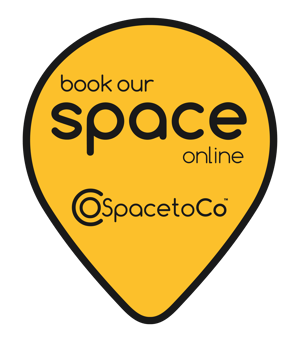 Installing your 'Book our Space' website pin:
Step 1
Decide if you want to link to each individual Space (SPACE URL) or your Host page (HOST URL) which contains all of your spaces. If you have more than one Space, linking to your Host page will be the best option.
To find your HOST URL, head to one of your listings on SpacetoCo and click 'View Host's Spaces'. The page that opens will be your HOST URL.
Step 2
Copy the pin graphic (right) and install it on your website.
Step 3
Link the image to your SPACE URL or HOST URL.
Step 4
Test your new pin to ensure it links to your Space or Host page.
'Book this Space' Cards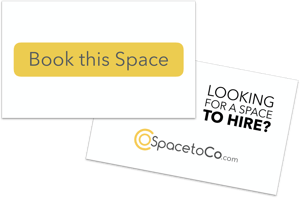 SpacetoCo has developed business card-sized prompts for you to leave in your Space(s). We've left space on there (pun intended) for you to write down any details like a discount code, suburb, etc... if needed.
It's best to place these cards in high traffic areas where they will be seen.
Want some cards?

Window Sticker
The 'Book our Space' window decals are a perfect way to let every customer walking through your door know that your Space can be booked on SpacetoCo. The best part, these stickers are free for SpacetoCo Hosts! They are 10cm in height and come in three epic colour schemes:
Yellow & Black
White & Yellow
Black & Clear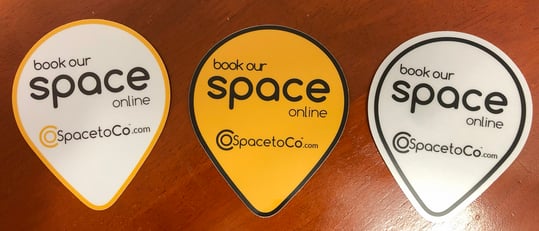 Don't have one? Click on the button below and we'll send some out. Just let us know how many of which you'd like!
Socials shout-out
We all LOVE a bit of socials LOVE 💛
So whether you're on the gram, the book, the tube, the twits or all of them, let us know!
We love to share awesome, beautiful spaces, and interesting stories so please make your space(s) look their best for our SpacetoCo feeds.
Want some social media love?

Corflute sign
For a big visual impact we can send you a SpacetoCo corflute sign. These signs are double-sided, weather-proof merch that will let everyone know how to book your spaces. The signs are roughly 40cm x 30cm in dimension.
Here's a reminder on just some of the ways we support our Hosts
(all the things you love about us)
Never miss a booking. You get prompted every time there is a message, upcoming booking, etc…

Participation in an online marketplace, helping you to grow bookings over time

Assistance from the SpacetoCo team through our chat service

Know who is booking your space when you use the SpacetoCo platform by scanning their profile and account

Payment securely delivered straight to your bank account