Working out your space hourly fee including your maximum daily charge or minimum booking duration
A note about hourly pricing
SpacetoCo's availability and booking calculation engine are all based on 15min increments. Guests are able to book using these 15min increments and your Space price is worked out accordingly.
For example, a space set at $20/hr would have a 15min price of $5.
Further to this, please see the below explanations on setting the Maximum Daily Charge (capped price) and the Minimum Booking Duration.
Note: We've also compiled some helpful tips if you're stuck on how to set your pricing.
Minimum or Maximum Booking Time (MBT)
Each space you manage can have its own Minimum or Maximum Booking Time. This determines the minimum or maximum amount of time guests can book the space for.
For example, a space set at $20/hr with a minimum of 2hrs and a maximum of 4hrs, would have a minimum spend of $40 and a maximum spend of $80.
Maximum Daily Charge (MDC)
This is the maximum length of time a Guest is charged per day, even if the booking goes for longer, and is calculated using your hourly price.
For example, a space listed as $20/hr with an MDC of 10hrs would be charged no more than $200 for any booking beyond 10hrs, within a 24hr period (midnight to midnight).

This is often used as a replacement for 'Full Day Rates', and comes with the added benefit of keeping your space's availability live. It also increases your chance of two bookings on a single day.
For example, a guest may book from 6am to 6pm ($20/hr, with a 10hr MDC for $200), which still allows another guest to book from 6pm to midnight.
Both MBT and MDC can be used together. For example, you can have your MBT set at 2hrs min, and your MDC set at 10hrs.
Setting your Space to 'Free'
SpacetoCo also offers the option of setting your Space to a $0 value, or, Free. The MBT can still be used, however, the MDC wouldn't apply as it's based on both time and value. Learn more about listing a free space here.
Updating your price
Updating your space pricing, MBT or MDC, does not impact any future bookings that have already been created/accepted. Those bookings have been paid for and are locked in.
Some Price Setting Tips
Run some calculations for what is reasonable to pay for your Space(s). You should take into account the amenity you offer and the types of spaces similar to yours that are already listed on SpacetoCo.
Make the price a whole number and consider whether $29 per hour is more appealing than $30 per hour.
Don't be afraid to conduct some market research and ask the people who might book your space, what do they think is fair and reasonable? You may be pleasantly surprised by the answer.
Start with a baseline price. You can always increase it once you have experienced a number of bookings and gathered some reviews. Our experience is that over-priced spaces will receive zero bookings.
Be sure to advertise the same price on SpacetoCo that you have elsewhere. Making it cheaper or more expensive is confusing to users.
Make your pricing as simple as possible. We recommend a baseline price and then using Additional Items and Charges for any additional surcharge fees e.g. Weddings, commercial rate, etc,
---
Please follow these instructions to adjust your Space price:
Step 1:
Navigate to your SpacetoCo Dashboard and Click on Spaces > Edit Space. You can also click here: https://app.spacetoco.com/dashboard/host/spaces
Step 2:
Click on Billing: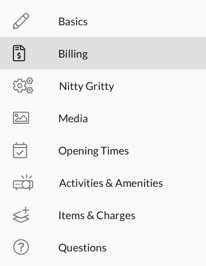 Step 3:
Here you can change:
Your 'Hourly Price', with 'currency' (AUD or NZD)
Maximum or minimum booking time
Maximum daily charge
If your space is free to hire then check the box 'This space is free to book'.
Step 4:
When you're done with your edits, be sure to click the yellow 'Update Space' button. That's it!