This article will guide you through the process of setting up an Enterprise level Outlook Calendar integration with SpacetoCo.
How does it work?
SpacetoCo's Outlook integration allows you to sync 3 months of past, and 24 months of future SpacetoCo bookings with your Microsoft Outlook calendar.
Think of this process as setting up a 'Super Bookings Officer Robot', that will create Microsoft Outlook calendar events on behalf of the SpacetoCo guest, setting the location of the event at the room, allowing it to add a block-out to its resource calendar. At the same time, it reads any other events in the resource calendar and creates manual bookings over in SpacetoCo.
IMPORTANT:
✋ If you do not have an enterprise Outlook/Office 365 environment that is set up with resources and rooms, it is recommended to follow the Personal guide.
What data does it sync?
We include the following information:
Booking type (Casual, Regular, Manual)
Date & time
Space & location
Bump in/out time*
Booking ID*
Name of booking/Guest Name*
Guest Phone number*
Booking reason*
*These are not publicly visible from the resources calendar.
Step 1 - Create/Login to Non-Personal Outlook Account
It is important to link a non-personal account to your SpacetoCo account, this will ensure that the calendars and integration stay permanent and unaffected by staff changes.
A nonpersonal account may look like bookings@cityoffastbookings.gov.au or spacetoco@cityoffastbookings.gov.au
⚠️ Deleting the linked account will cause the bookings to be deleted in SpacetoCo, and potentially the loss of the shared calendar.
Step 2 - Create an Outlook Calendar
Make a personal calendar for the nonpersonal account, this is where all the SpacetoCo bookings will be written to.
Creating a Calendar
On the side menu, click "Add Calendar".

Select the "Create Blank Calendar" on the left panel.

Type in the Calendar Name. We recommend something like "SpacetoCo Bookings"

Choose a calendar colour/icons

Click the Save button

Done!
Sharing a Calendar (optional)
The events created in this calendar will have a bunch of booking details that might be useful to someone like a booking manager. You may want to share this calendar with them so they can have easy access to it, be careful who you decide as they will be able to access customer information.
On the side menu, click three vertical dots next to the calendar you wish to share.

Click "Sharing and Permissions" from the pop-up menu.

Enter the email address of the user you wish to share the calendar with, select the correct user.

Change the sharing permission to "Can Edit"

Click the Share button.

Done!
Step 3 - Link Outlook/365 Account with SpacetoCo
Go to https://app.spacetoco.com/dashboard/host/integrations/outlook

Click on the "Login With Microsoft" button to be taken to the Single-Sign in flow with outlook.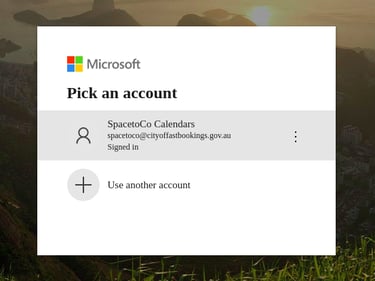 Select the account you wish to link, making sure it is the non-personal account we had set up back in step 1.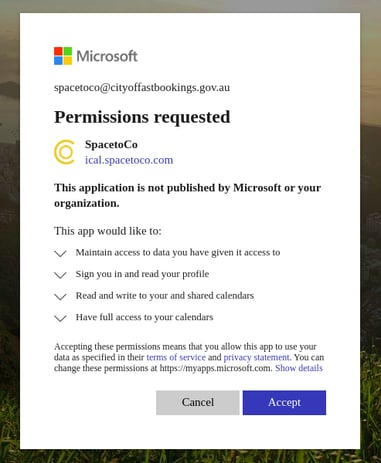 Review the permission grant request and click "Accept".
Step 4 - Pair Rooms with Spaces
After completing the sign-in, you should be presented with a pairing table.
Make sure the "Sync Spaces To" option is set to "Rooms/Locations"

Set the "Write Events to Calendar" option is set to the calendar you created in step 2.

Using the drop-downs at the bottom, find the outlook room/location/resource and select the SpacetoCo space you wish to link to it.

Repeat for other room-space pairs that you've created. Once done, click Save.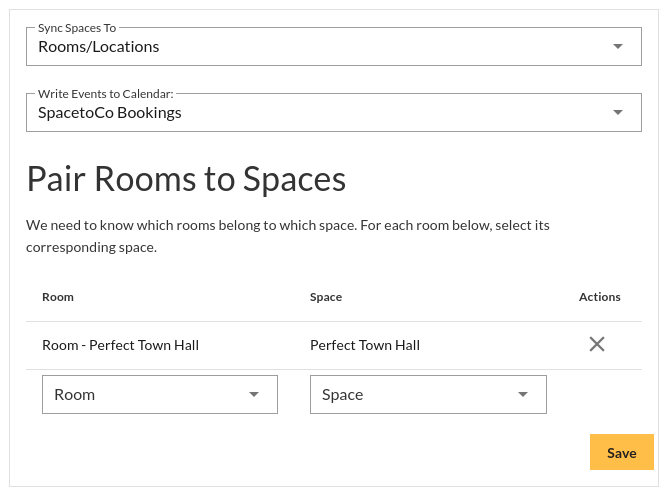 You can always come back to this page by going to https://app.spacetoco.com/dashboard/host/integrations/outlook
Step 5 - Wait
The calendar will be synced once every 15 minutes, so it may take up to 15 minutes for you to see the synchronisation occur.