Hosts need to register their bank details through Stripe to receive payment for bookings. You can also edit your bank details using this same process.
SpacetoCo has selected Stripe as our payment partner for processing Host bank account details, and taking Credit Card payments from Guests. Stripe handles all verifications & security on SpacetoCo's behalf and is a trusted leader for online payments. Your private information is encrypted and is never viewable by anyone from either SpacetoCo or Stripe.
In order to receive Host payments (see this article for more information on getting paid as a Host), the account representative needs to complete the Host Bank Details steps. If completing the process on behalf of a company, anyone who has the authorisation from their business to set up a Host account within SpacetoCo can complete these steps. Note that your space will not appear in SpacetoCo search results until you have completed this step.
Step 1:
We make it easy to know that you need to add your bank details. If you have recently listed a space you will be prompted to set-up your payment details.
You can also login to your SpacetoCo Dashboard and click on Payout Details (Direct link --> https://app.spacetoco.com/dashboard/account?tab=payout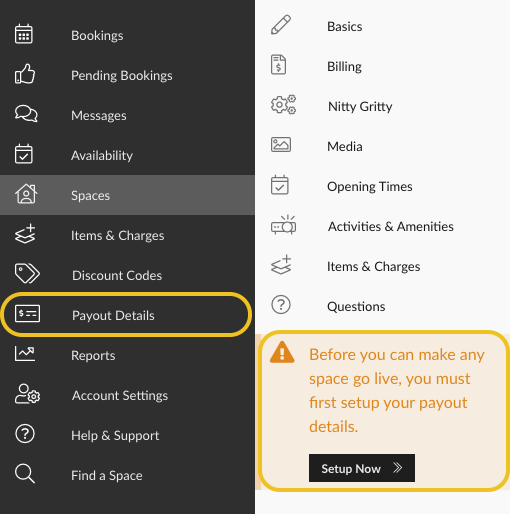 Step 2:
Follow the on-screen instructions to set up your payout details with Stripe.
You will need a mobile phone to receive a verification code.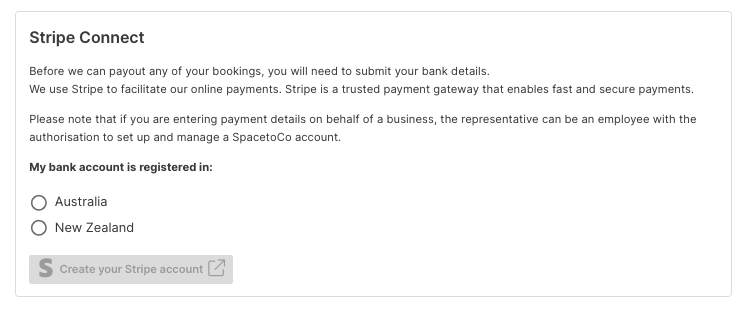 Step 3:
That's it! 👏

If you listed a Space with SpacetoCo and setup your Bank Details before the 6th June 2020, then you may be prompted in your Payout Details to 'Update Account Information'. Simply follow the onscreen prompts to upgrade to the newer Express Stripe service. You will be asked to confirm:

1. Phone Number
2. Email Address
3. Business Details
4. Management and Ownership details
5. Payout Details

Click "Done" once the required information is filled and you will be redirected back into SpacetoCo.
FAQs
What if it's a business bank account and not my own?
Not a problem - simply enter a phone number that you can be contacted on - it doesn't have to be the account holder's phone number.