When you need to send a message to more than one guest at a time
There are times when you may need to send a message to more than one customer. Examples include:
A change in pincode to access the venue
A change in rules
A COVID-19 related notice
To send a message, you have two options.
Send it directly to each Guest through 'Messages'. You can learn how to do this here.
Send a message using 'Host Announcements' which is located here https://app.spacetoco.com/dashboard/host/announcements. We've outlined below how to use this feature.
How to send a Host Announcement
Step 1
Enter the following details for your announcement:
A title/subject line.
Your main message
Any attachments (you can add a few)


Step 2
Filter down to whom you would like to send your message. You can either send it to:
All Guests with Approved Verified Applications
Guests with bookings under a certain time, space and booking-type conditions
Step 3
If you'd like to remove a certain Guest after you've filtered down your list, you can do so by clicking the 'x' next to their name.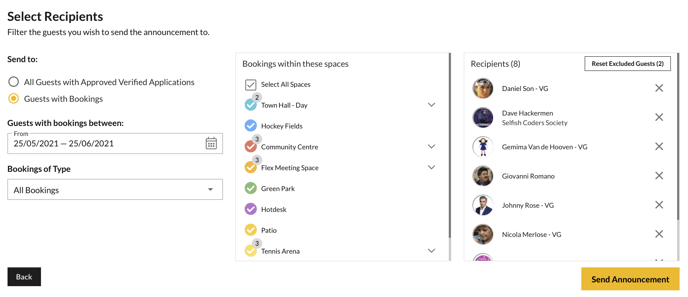 Step 4
Click 'Send Announcement', and your message will be sent to the full list of Guests. They'll receive an email with the details of the message, along with any attachments you may have added.
If Guests would like to respond, they can do so using SpacetoCo messages, and you'll be able to carry on the conversation from there.