How long it takes for a booking to expire and what to do if it does.
An expired booking occurs where the timeframe to take action on the booking has lapsed. This can happen if either of the following is true:
More than 6 days (144 hours) has transpired since the initial request was submitted; or
At midnight of the day the booking request was for. For example, if a booking request was for today at 8 am, it'll automatically expire at midnight if not actioned.
When a booking expires, the Guest is automatically refunded the cost of the booking. The Host and the Guest will receive an email notification outlining this in detail.
Note: Information about all the booking status types (including approved, complete, declined, cancelled and expired) can be found here.
Can I reinstate an expired booking?
You sure can! Undoing an expired booking is really handy when:
The booking request wasn't actioned in time but the Guest ended up using the space
Saving the Guest from resubmitting a booking request
Steps:
1. Locate the expired booking by going into the 'Recently Expired' tab in the Pending Bookings area.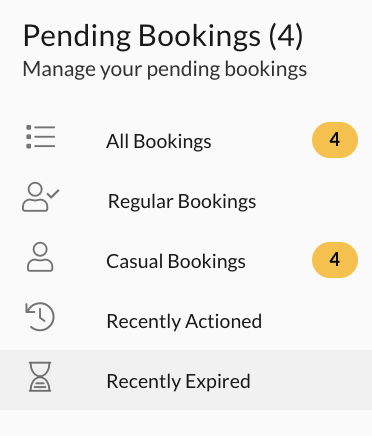 2. Click on the booking to open the booking editor menu
3. In the top right-hand corner, click on 'Actions' and select 'Undo Expiry'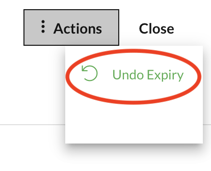 Note: By clicking on 'undo expiry', the booking will automatically be approved.
4. The booking will now appear as an approved booking in your calendar!