Hosts can write up to 8 Yes/No questions that pop up for their Guest(s) at checkout
Each Space can have its own set of questions that apply to casual bookings. These are useful for reducing the back-and-forth that can happen with space hire bookings.
It is not compulsory to setup questions on your space, however it can be handy to help find out a little more information from your guest.
Questions default to 'no' as an answer, and so questions should be positioned with this in mind.
Questions are also visible through the booking application and are attached to the booking data. They are also included in email notifications.
Step 1:
Navigate to your SpacetoCo Dashboard and click on Spaces > Edit Space. You can also click here: https://app.spacetoco.com/dashboard/host/spaces
Step 2:
Click on Questions: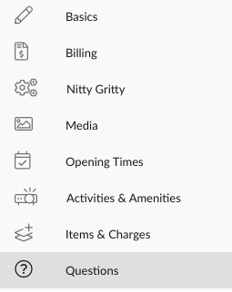 Step 3:
Follow the on-screen prompts to write your questions for the space you are editing.
If you want to have your Guests complete an action as a result of answering 'Yes', then please complete the field accordingly.
An example may be:
'Do you intend to play music?'
If the answer is Yes, then show this text:
'Please ensure any loud music is turned off by 10pm'.
✋ SpacetoCo recommends only asking the questions that are most important.
Step 4:
When you're done with your edits, be sure to click the yellow 'Update Space' button. That's it!