Hosts can set clear and simple rules for their space as well as attach a PDF of more detailed Terms and Conditions
✵ This article is aimed at SpacetoCo Hosts. It assumes that you (as the Host) has followed the steps here and listed at least one space.
Space rules are displayed on your public Space page. They are also included in Booking Notification emails sent to the Guest. Rules should not be considered as a replacement for your own Terms & Conditions, but rather the key highlights/rules for a Space that you want Guests to read.
T&C's can be set individually per space, with 1 PDF allowed. They are visible in the following locations:
On the space page

On the final stage of the checkout, alongside SpacetoCo's Terms & Conditions, as part of the 'overt act of acceptance' action required by the Guest before submitting a booking.
To set your space rules and T&C's, please follow these instructions:
Step 1:
Navigate to your SpacetoCo Dashboard and Click on Spaces > Edit Space. You can also click here: https://app.spacetoco.com/dashboard/host/spaces
Step 2:
Click on Nitty Gritty: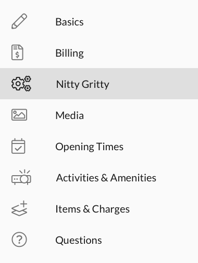 Step 3:
At the top of the Nitty Gritty section, you will see you can list out your 'space rules'. We advise listing these out in a dot-point format for clear reading. Use the bold and italics to emphasise particularly important aspects of your rules. TIP: Be specific and use firm, clear language.
At the bottom of the Nitty Gritty section is the chance to upload a PDF of your T&C's. These are a thorough and more-detailed guide for the use of your space.
Step 4:
When you're done with your edits, be sure to click the yellow 'Update Space' button. That's it!