Hosts can set a cancellation for each Space they manage. The cancellation policy is the window of time someone has to cancel a booking without penalty.
This article is aimed at SpacetoCo Hosts. It assumes that you (as the Host) has followed the steps here and listed at least one space.
SpacetoCo has made it easy for any booking to be canceled, with the ability for each space to have its own cancellation policy set at a global level.
For Casual Bookings, the cancellation policy is applied to each booking at the time of booking creation.
For Verified Bookings, the cancellation policy is applied to each booking based on the Space global settings. If these global settings are changed, then this change is also applied to all future Verified Bookings.
✋ SpacetoCo recommends only setting a cancellation period of either 7 or 14 days.
To set your Cancellation Policy for each space, please follow these instructions:
Step 1:
Navigate to your SpacetoCo Dashboard and Click on Spaces > Edit Space. You can also click here: https://app.spacetoco.com/dashboard/host/spaces
Step 2:
Click on Billing: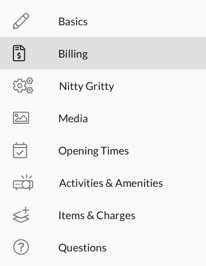 Step 3:
Adjust your Cancellation Policy to suit. The options include:
Any time before the booking, 12 hours, 24 hours, 48 hours, 72 hours, 5 days, 7days, 14 days, 30 days, 60 days, 90 days, 120 days, 180 days
Step 4:
When you're done with your edits, be sure to click the yellow 'Update Space' button. That's it!