SpacetoCo offers iCal subscription links for your spaces and their bookings.
SpacetoCo Hosts can gain access to their own unique iCal feed or subscription for each listed SpacetoCo space. The iCal link is then accessible from any modern calendar client and contains information relating to your SpacetoCo bookings on individual calendars.
Key points to note:
iCal subscriptions are read-only, and cannot be modified.
These links can be invaluable for 3rd party staff such as cleaners, facility managers, and security.
iCal subscriptions can be added to any smartphone, tablet, or PC. The links function in Outlook, Apple Calendar, and Google calendar.
iCal links are a feature limited to Partner and PartnerPro Hosts. If you're interested in upgrading or want to unlock this feature, please contact us.
Available permission levels of iCal subscriptions
SpacetoCo offers 3 levels of iCal subscription access so that you can select the privacy settings you need. This means 3 URL types can be generated per space.
Viewable Information

All
Details

Basic Details

Limited Details

Booking type (Casual, Regular, Manual)

✔️

✔️

✔️

Date & time

✔️

✔️

✔️

Space & location

✔️

✔️

✔️

Bump in/out time

✔️

✔️

✔️

Booking ID

✔️

✔️

✔️

Name of booking/Guest Name

✔️

✔️

Guest Phone number

✔️

Booking reason

✔️
SpacetoCo recommends creating a unique URL for each user, which allows for easily revoking permissions at a later stage.
How to enable iCal links on your Spaces
Head into your individual space settings, and find the menu item called 'Calendar Links'
Click the yellow button '+ Add Link'
Give it a name and choose your permission levels
Copy the link and away you go!
How to use an iCal Link on Apple Calendar
Head to your favourite Calendar client, and find the area where you can 'subscribe' to a calendar. In this example, we are using Apple Calendar on a Mac:

Paste in your copied iCal link and 'subscribe'.

You'll then see all of the bookings for that Space begin to populate on your calendar (we have deliberately blacked out the details on this screenshot):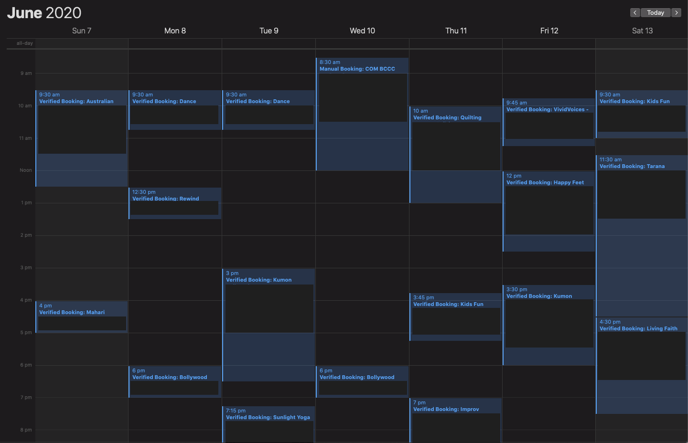 Depending on your calendar client, these are refreshed periodically throughout the day/week. SpacetoCo updates them every 15minutes in the background.
How to use an iCal Link on Google Calendar
1. On the left-hand side of your Google Calendar you will see Other Calendars and a + symbol. Click on the + symbol.

2. From this drop down menu, select 'From URL'

3. Enter the URL given to you by the SpacetoCo team and click Add Calendar.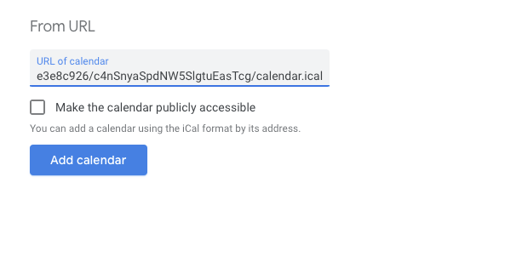 4. The Calendar will now appear in your Other Calendars. You can toggle it on or off to view the events from the Space. It may take a few hours for the calendar name to change to the space name and for all the events to pull through, as google doesn't instantly grab fresh data in its calendars.
NOTE: SpacetoCo has released Outlook calendar integration in beta mode for organisations on PartnerPro. For more information on this, click here.
If you have any questions about calendar subscriptions please reach out to the SpacetoCo Team using the chat

on the bottom right corner of any SpacetoCo webpage 👇